Application of industrial cameras in semiconductor
The application of industrial cameras in the semiconductor industry can improve production efficiency, reduce costs, and ensure product quality and consistency.
Industrial Cameras Applications in semiconductor
Industrial cameras have a wide range of applications in the semiconductor industry, mainly including the following aspects:
Testing and Quality Control
Automation and machine vision
Circuit board inspection
Packaging and packaging inspection
Color detection and sorting
Industrial cameras are important in inspection and quality control during semiconductor production. Such as defect detection, dimensional measurement, color difference detection, foreign matter detection, welding quality detection
Inspection and sorting: Industrial cameras can be used to inspect and sort semiconductor chips. By photographing the surface of the chip, the camera can detect and identify defects, contaminants, chip size, and other issues, classify and sort them.

Dimensional measurement: Industrial cameras can measure the size and shape of semiconductor chips. The chip's dimensional data can be obtained quickly and accurately by applying precise image processing and measurement algorithms to the chip.

Alignment and focus: Alignment and focus are very important steps in the semiconductor manufacturing process. Industrial cameras can precisely control alignment and focus to ensure accurate alignment of chips and masks.

Chip surface inspection: Industrial cameras can perform high-resolution inspection of the surface of semiconductor chips. The camera can detect tiny defects, contaminants, and other problems on the chip surface and analyze and classify them through image processing technology.

Chip packaging inspection: Industrial cameras can detect problems in the chip packaging process. For example, cameras can detect welding issues in packages, precise placement of packaging materials, etc., ensuring the quality and reliability of chip packaging.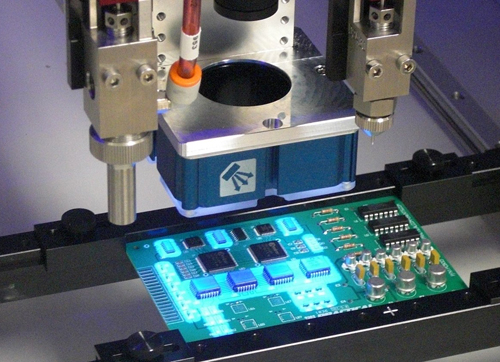 These are common applications of industrial cameras in semiconductor manufacturing and inspection. Industrial cameras can improve the efficiency of the semiconductor manufacturing process and product quality through high-resolution, fast image processing capabilities.